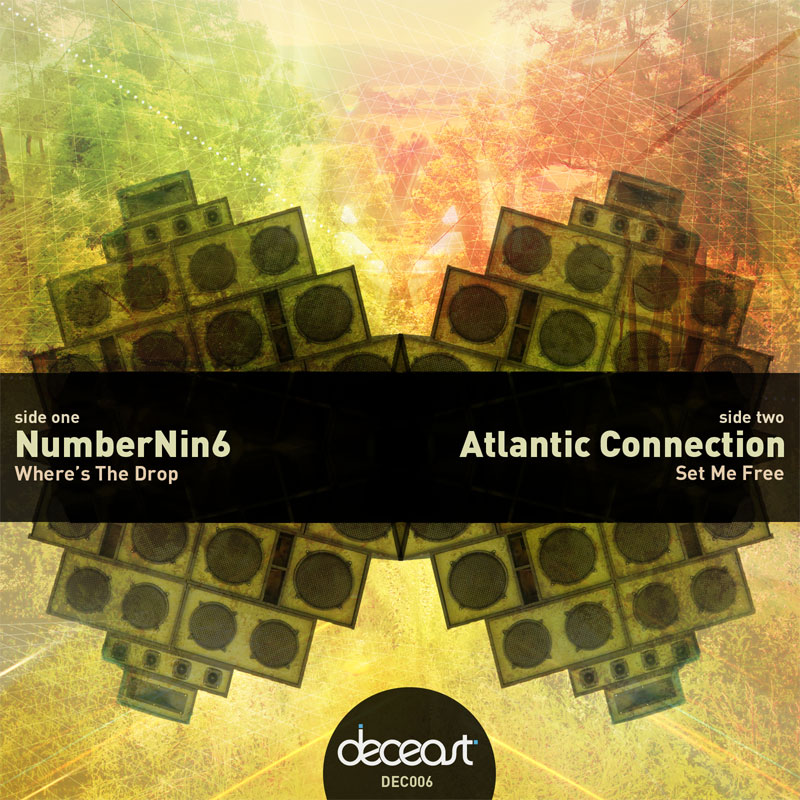 NumberNin6 / Atlantic Connection
"Where's The Drop" / "Set Me Free"
---
DEC006 - Released January 23rd, 2012
---
About The Release
Deceast is back for 2012 with our first single of the new year! This split release features two tracks, "Where's The Drop" by NumberNin6 and "Set Me Free" by Atlantic Connection. Both names should be familiar to fans of bass music: NumberNin6 is well known for his aggressive, heavy dubstep releases on labels like SubHuman and Z Audio and Atlantic Connection's soulful drum & bass music has appeared on imprints like Soul:R, Creative Source and his own Westbay Recordings.
"Where's The Drop" by NumberNin6 is a thick cut of reggae-infused music that really pays homage to the dub side of dubstep. While NumberNin6 is known for much heavier music, this track lays bare his advanced production skills and his ability to write in a variety of styles. With skanking guitars, heavily delayed vocals and a foundation-rattling low end, "Where's The Drop" has a great vibe that should please both the longtime purists and the new listeners alike.
On the flip side, "Set Me Free" by Atlantic Connection sets a more mellow mood with drums and vocal edits that harken back to the sounds of 2 step and UK garage. Perfect for home listening and headphone consumption, "Set Me Free" illustrates why Atlantic Connection has maintained his position as one of the main purveyors of soulful bass music in North America. This song is right at home alongside recent music from artists like Kastle, Om Unit and TMSV.
About The Artists
NumberNin6 has been one of America's best-known dubstep exports since he first gained attention with his dangerously heavy dancefloor-oriented releases on labels like Z Audio and Migration. In 2010, NumberNin6 signed to Dieselboy's SubHuman imprint alongside North American bass music artists such as Datsik, Bare and Mark Instinct. NumberNin6 is now expanding his horizons into a variety of styles and tempos and Deceast is excited to help these new musical explorations find an audience outside of his existing fanbase.
As a producer, DJ, engineer, publishing company and record label owner, Atlantic Connection is pushing himself to the forefront of electronica with his soulfully-charged brand of bass music. Starting out with a focus on drum & bass, A.C. expanded his musical repertoire far beyond into house, hip-hop, and beyond with the release of his 2008 debut album Tomorrow's Not Enough. 2012 sees Atlantic Connection forging ahead into musical territory that escapes genre classification with his unique blend of soul-drenched samples, crisp breaks and deep bass that covers a wide range of tempos and styles.